Acid and Alkali Storage Tanks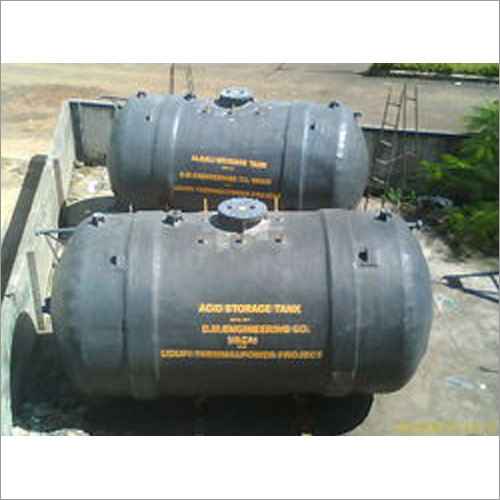 Acid and Alkali Storage Tanks
Product Description
All DM Plant Or RO plants require bulk Acid and Alkali Storage Tanks & dosing tanks. At SCIPL we have the expertise to offer customized tanks on turnkey basis including civil work, suiting to your site requirement. We can also take up site fabrication of over dimension tanks which eventually save lot of cost of transportation.
Salient Features:
Thermoplastics like PP, PVC, HDPE are well known for their chemical/acid resistance
They unfortunately lack the mechanical strength required for storing bulk quantities.
Thermoset resin like isopthalic, vinyl esters are ideally suited for manufacturing of equipments where chemical resistance as well as mechanical strength both are required.
At SCIPL we manufacture dual laminate tanks wherein a thermoplastic sheet is rolled on wooden mould, welded at seams & then coated externally with suitable FRP resin along with combination of different glass reinforcements(Hand lay-up).
The PP/PVC sheets serve as chemical barrier & remains in contact with acid while, (FRP)glass fibre reinforced polymer(resin)imparts strength required to hold bulk volumes of acids.
The FRP thickness & combination of glass reinforcements in FRP is designed as per BS 4994 & ASTM 4097 D code.
The tank wall has gradually decreasing thickness in order to optimize the costs.
The resins used are UV stabilized to nullify the effect of sunlight due to prolonged exposure to UV rays in sunlight.
All stiffeners, railings, ladders are made up of pultruded FRP which are totally non metallic & non corrosive with extremely good axial strength.
Tanks are also designed taking into consideration the effect of wind load, seismic load, man load etc.
Suitable lifting hooks of MS embedded in FRP are provided for lifting/handling of tanks.
static grounding arrangement is provided to avoid any explosion hazards while the tank is dry before loading.
Thickness of bottom knuckle radius is doubled as per ASTM 4097 D guideline.
PP sheet is welded using PP welding rod with hot air torch set
Absorption pot is provided to absorb fumes from air vent of tank.
Breather valves are provided with ball seal to avoid implosion of tank under vaccum.